Food wastage is a big issue and 1/3 of all food produced globally goes to waste. This equates to £700 per year wasted on food based on the average UK family. Using Status Vacuum storage will prolong food freshness up to 4 times longer, which will save you money and time.
Why Use a Vacuum?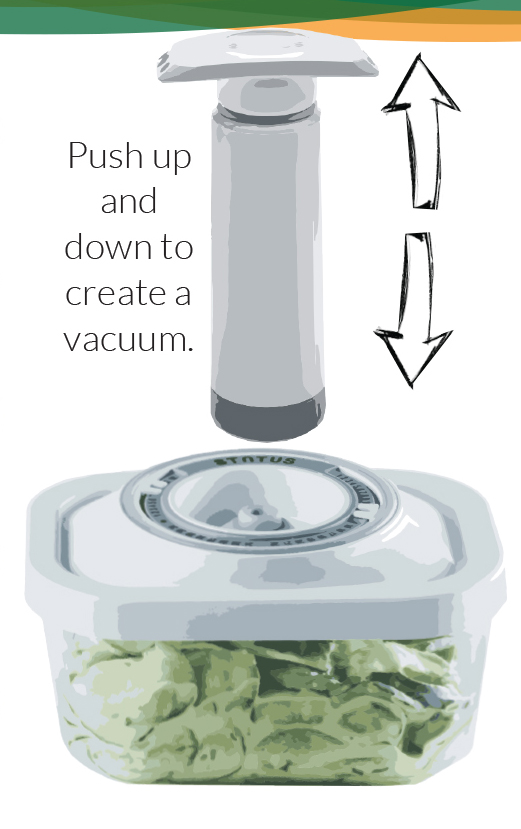 Vacuum Storage extracts all the oxygen from the container, and with the Status range, a pump is provided to allow this. Since most bacteria need oxygen to live and thrive, the vacuum accomplishes the task of protecting the foods from being exposed to these specific bacteria, which causes spoiling. Unfortunately, airtight containers still have the oxygen left inside, which may be enough for mould and bacteria to thrive. Loosely wrapping your food and putting it in the refrigerator can only save your food for so long and is nowhere near as efficient as vacuum storage.
We've already stated that vacuum storage will keep your food fresh up to 4 times longer, which is a big advantage in itself, but if you're not quite sold yet, then here are some other great advantages to using vacuum storage.
No unpleasant odours, which means a clean smelling fridge
Buy larger quantities of food and store them, knowing they won't spoil. Buying in bulk usually works out cheaper.
Preserves food vitamins, minerals and flavours
No leaks
Good for marinating: the vacuum will increase the porosity of foods, enabling them to absorb the flavours quicker.
Plan your meals in advanced
The STATUS range is able to go in the freezer, vacuum storage prohibits freezer burn.
Why STATUS?
The STATUS range is great if you are looking for affordable vacuum products, they offer a variety of containers as well as vacuum machines and bags. We love the STATUS vacuum range because they have super easy maintenance and the materials used are BPA free, which means no chemicals from the plastic will leach into your food. Also, the plastic container is made out of Tritan plastic. This material is shatter resistant and stays clear and durable even after years of repeated use and dishwasher cycles.
Below are some more reasons why we love the vacuum range.
Lid is made from ABS plastic which allows the whole Vacuum container to be placed in the freezer
Materials do not absorb food odour or colour
Plan your meals
Containers are made of transparent materials, which help you organize your refrigerator and shelves.
Mark the date of expiry with the calendar dial
Freezer safe
Dishwasher safe
Microwave safe without lids
Maximises space
Can act as great lunch boxes
The STATUS Range

Pump: this is used to create the vacuum by removing the air from the container, all you do is pull and push the pump several times to create a vacuum. To open the container move the valve in the centre lid sideways.

The main advantage provided by this jug is its ability to keep the liquid stored in it fresh. Its shape has been designed to fit in a fridge door, keeping the space used to a minimum. It is generally ideal for storing juices or smoothies that have been made fresh at home. You can also store milk and other liquids you wish to keep fresh. Vacuum storing a liquid allows it to maintain its flavour for longer.

The containers are great if you want to organise your fridge and kitchen cupboard, as they can neatly stack on top of one another. You can store fruit vegetables bread, meat, cheese, sweet/savoury snacks, sauces and you can even marinade meat in the containers. The containers come in many different shapes and sizes, so you will be able to find the right containers suited for your kitchen.

The drip trays go inside the vacuum containers and prevent wet/damp food from sitting in liquid, for example, meat, lettuce and boiled foods. The drip trays will prevent wet/damp foods from going soggy.

The STATUS Vacuum lids are great for sealing already opened cans, containers and bowls but will still provide a secure vacuum.

The small bags can be vacuumed by using the packing machine and are ideally used for longterm storing. The most common use of the vacuum bags is storing meat, as it can easily be sealed and then left in the freezer. The bags are also great for preventing freezer burn. To save money on vacuum bags you can easily place the bag in the dishwasher which is great if you are wanting to reuse the bags quickly.

When sealing the vacuum bags you should make sure the bag is 5cm longer than the food you are vacuuming, this will give the Vacuum packing machine plenty of space to create a seal.

BV500 Vacuum Packaging Machine

This machine will enable you to vacuum containers and bags with a single push of a button. The sealer will stop automatically when negative pressure is reached. Always ensure your seal area is flat and not creased as this will not create a secure vacuum.

When vacuuming food that has high water content like soft fruits and certain meats you will need to use the manual vacuum packing button, so no liquid is sucked into the machine.