Aquasana AQ-5200P Under Sink Water Filter
Aquasana always produces high-quality products and the AQ-5200 is no different. The 2 stage under counter drinking water system features a stylish brushed nickel or polished chrome tap and the latest Claryum filtration technology. This technology will be able to remove a wide range of contaminants, which will make the water much more beneficial to you and tastier.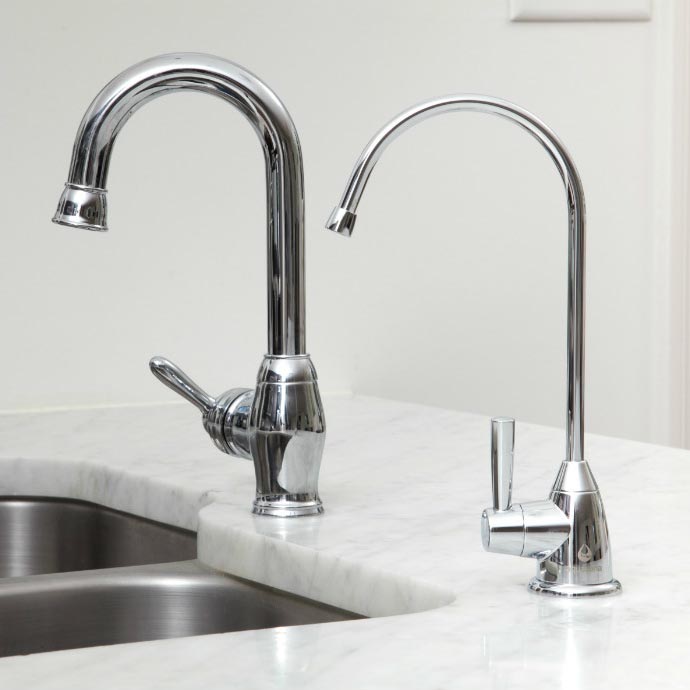 The AQ-5200 is very easily to install and it has been designed to fit into small under sink areas. It comes complete with a mounting bracket, supply line, T-fitting, nickel tap, colour coded tubing, filter cartridges and an easy to follow illustrated instruction guide. Typical installation requires only 20 minutes and the use of only pliers and a screwdriver. Depending on your plumbing capability you may be able to instal the system yourself.
Once installed, the system allows you to get the best filtered water at a fraction of the cost of bottled water while offering superior value to other filter options. Aquasana's patented dual filter system uses a combination of carbon filtration, ion exchange and sub-micron filtration to produce filtered, great tasting water. This method allows it to remove over three times more contaminants than leading jug filter brands while providing a filter with a much longer lifespan than others on the market.
Key Features
Instant filtered water
Stylish tap included
NSF Certified Claryum™ filtration technology removes 68 contaminants
Retains beneficial minerals
Eliminates lead and over 97% of chlorine and chloramines
Compact under counter filter
Easy to install, replace and maintain
Eco-friendly filters
Filtration Technology
The AQ-5200 uses a dual stage process to get high quality filtered water, this is all down to the high-performing NSF certified Claryum filters. These unique filters use a 3 stage process which enables the water filter to eradicate 68 chemicals, heavy particulates and dangerous metals including lead. The water first enters the activated carbon filter where chemicals such as herbicides, pesticides, VOCs and MTBE will be filtered out.
The second stage involves the water being submerged into an Ion-Exchange process which removes dangerous metals such as mercury and lead, it then replaces those metals with potassium. The final stage of the 3 stage water filtration is the Sub-Micron Mechanical Filter, which captures asbestos, microscopic organisms like cryptosporidium and giardia which are two common water-borne parasites.
After this quick process of eliminating contaminants, the AQ-5200 will also use catalytic carbon, which targets chlorine and chloramines which are the most present in UK household water. Even though your water will go through a fair few filters, the AQ-5200 will always preserve all the beneficial minerals you get from water, making for a mineral-rich hydrating drink.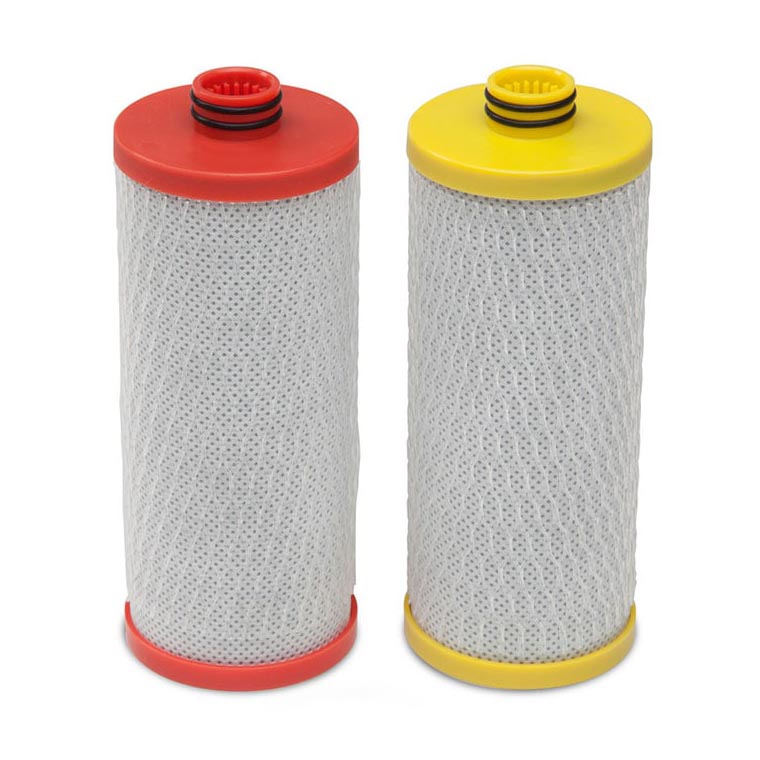 Convenient Filter Replacements
Fewer filter replacements are needed with this Aquasana water filter as it has an impressive capacity of 500 gallons. With a flow rate of 0.5 gallons per minute, your filter will only need to be replaced twice every year. You will be able to see when it's time to change the filter as there is a smart indicator light accompanied by an alerting noise. This indicator means you will never be without filtered water unknowingly.
The replacement filters are also environmentally friendly and limits disposable plastic parts. This offers you a safe way to recycle your used filters, reducing the level of plastic waste. You can easily recycle the drinking filters by removing the ends and recycling the numbered plastic parts. They are composed of 95% biodegradable carbon which can be used either for composting or simply deposited as carbon acts as a positive component to landfill.
Quick Simple Installation
Installing the AQ-5200 can easily be installed by an adult and you won't have to pay out for a plumber either. It comes complete with a mounting bracket, supply line, T-fitting, chrome tap, colour coded tubing, filter cartridges and an easy to follow illustrated instruction guide. Typical installation lasts only 20 minutes and requires the use of only pliers and a screwdriver. If there is no existing hole in your counter, the Aquasana Counter Topwater filter might be a better option for your household.
If you need to change the filter in the AQ-5200 all you need to do is twist the filter housing off so the replacement cartridge can be fitted.
*Please note that when installing this system you should use the plastic T-Fitting provided.
Specifications
Model: 5200
Filter Life: 6 months / 500 gallons
Operating Pressure Range: 20 - 80 psi
Operating Temperature Range: 4.44 - 32.2°C (40 - 90°F)
Rated Capacity: 1892 litres (500 gallons)
Rated Flow: 1.9 LPM (0.5 GPM)
Weight: 1.9 kg (4 lbs)
Warranty: 1 Year
A full list of chemical performance details can be seen in this data sheet.