Omega Sana Juicer White UK-EUJ 707W with Oil Extractor Attachment

The latest model in the line from the prestigious Omega Juicers, the Omega Sana Juicer is a single gear masticating juicer. Specifically created and designed for the UK and European market, the Omega Sana Juicer Chrome is based on the US line of Omega NC Juicers.
A hotly-anticipated upgrade to the Omega 8004/8006 Juicer Total Nutrition Centre, the Sana Juicer has much to live up to as its predecessor was widely regarded as the best single gear masticating juicer available. However, the new Omega has gone a step further with a range of new features not previously available as well as some improvements including a wider feeding chute, stainless steel containers for collection, coarse juicing screen to optimise soft fruit processing and a brand-new contemporary design. With exceptional engineering and GE-Ultem, BPA free parts, the overall design is of the superb quality that we expect to see with an Omega Juicer. The super-slow masticating speed of just 70 RPM has been preserved in the Sana Juicer resulting in a juice rich in enzymes and an extremely generous juice yield.
Energise Your Life is proud to be a retailer of the Omega Sana juicer and one of the official Omega distributors in the UK.
Product Video
Sana Oil Extractor EUJ-702
We are proud to present the Sana Oil Extractor EUJ-707. Juicing is a big passion of ours and this is an innovative attachment that can be used with the Omega Sana 606 and Omega Sana 707. As cold press juicers have risen in popularity other aspects of food such as healthy oils from all sorts of nuts. There are many proven health benefits from eating healthy oils and oils such as flaxseed oils can go bad over time and especially when they are not stored correctly. This means that the taste will suffer and also, as a result, the nutritional value of the oils will drop as they have likely been oxidised. With the Sana Oil Extractor you are now able to extract the right amount of oil and because of it's cold press extraction you do see a huge benefit in taste and the nutritional value of the oil.
The Sana Oil Extractor EUJ-702 is compatible with the following juicers:-
- Omega Sana Juicer EUJ-707
- Omega Sana Juicer EUJ-606
The Sana Oil Extractor EUJ-702 is very versatile and allows user to extract fresh cold press oil from the following seeds and nuts: - sesame, sunflower, pumpkin, rapeseed, hemp, poppy, evening primrose, black cumin, coconut (dehydrated shreds), almonds, pine nuts, walnuts, hazelnuts, peanuts, cashew nuts, brazil nuts, pistachios and macadamia nuts. As well as all of this it can make oatmeal flakes from oats.
The Sana Oil Extractor EUJ-702 comes with a glass pitcher and a stainless steel strainer. Included are a protective glove and a metal pin to make cleaning easier. The augur and the regulating rings come with a 2-year warranty, and all other parts come with a 5-year warranty.
This is a truly ingenious yet very simple attachment as it is simple to assemble and connect to the body of the juicer with all parts coming in contact with the oil being stainless steel and aluminium. It is a very sturdy and durable attachment as well.
Oil Attachment Overview
Video of product
The original Omega 8004/8006 vs the new Omega Sana Juicer EUJ 707
Compared to the original Omega 8004/8006 the new Omega Sana Juicer EUJ 707 features a long list of new features and upgrades, helping it to surpass its extremely popular predecessor. Some of the features you might find include:
A coarse juicing screen to get optimum results when juicing soft vegetables and fruit, the first horizontal masticating juicer to include this. The standard fine juicing screen and homogenising and mincing juicing screen are also included with the Omega Sana

Available in three gorgeous colours including Ferrari Red, Pearl White and Chrome

Bigger feeding chute of 45mm at its widest section (compared to 40mm for the Omega 8004/8006)

Pulp collector made from stainless steel and glass juice collector for maximum hygiene

Hidden power cord

Base of juicer features integrated handle

Certified as being free from BPS and BPA

Silicone ring in the pusher tool to help push the produce right into the masticating auger
Create a range of recipes with the Omega Sana Juicer White UK EUJ 707W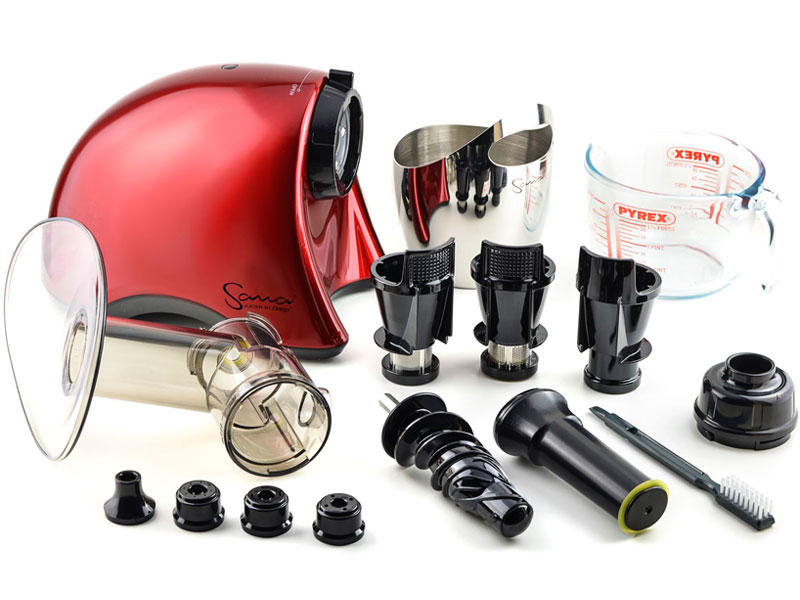 Similarly to competitor machines on the market such as the Oscar Neo and the Samson Advanced, the Omega Sana is supplied with a generous range of nozzles and a blank homogenising screen. This selection means you can choose to make a variety of different pasta noodle shapes, grind coffee or make frozen fruity sorbets and nut butters.
The Omega 8006 Juicer vs the Omega Sana Juicer EUJ 707
In many ways the new Omega Sana performs almost identically to its predecessor, but when it comes to leafy greens and distinct advantage. Compared to the original Omega 8004/8006 the new Omega Sana is 2-4% better for leafy greens and 5% better on soft items such as pineapples, grapefruit and oranges.
Technical specifications
Super strong juicing parts thanks to GE Ultem technology

420mm L x 187mm W x 320mm H

5.7kg weight

Induction motor which is reliable and quiet

Motor warranty 10 years, parts warranty 5 years

Low rotation speed of 70 RPM

Slow speed masticating juicer helps to protect enzymes in the juice and deliver a greater nutritional content

Contemporary new housing for motor

Simplified clean-up operation with easy and intuitive design for taking apart and re-assembly
Delivery Information
Energise Your Life is pleased to offer Free Courier UK Delivery on all orders over £100 & Free Courier European Delivery to Ireland, Belgium, France, Germany, Luxemburg, Netherlands & Monaco on orders over £150. For delivery to Spain, Italy, Portugal, Sweden, Denmark, Austria, Finland & Greece only £9.95 for orders over £150. Full details below for shipping cost depending on order total. For deliveries to other remote locations not mentioned on the table below, please contact us on enquiries@energiseyourlife.com.
Orders are mostly dispatched on the day of purchase if the order is placed by 2pm Monday - Friday. If the order is placed after 2pm, it will be dispatched on the next working day. UK Deliveries can have specified day for delivery (provided you write this in the comments section when checking out) and Saturday morning delivery. There will be a small charge for Saturday delivery, please call us for details on +44 (0)207 948485.
Orders placed over the weekend will be dispatched on Monday for delivery on Tuesday in most cases (excluding bank holidays). Orders qualifying for free delivery, you simply need to checkout and no extra fees will be applied to your order. All free UK courier deliveries will receive a text message if a mobile number is provided on the order. The text message will confirm a one hour delivery window of when the parcel will be delivered.
Delivery of Goods
Delivery to the UK is the next working day*.
Delivery to UK Offshore Scottish Highlands is 2 days.
Delivery to mainland Europe is 2 to 4 days.
For all other locations please contact us on +44 (0)207 948485.
All courier delivered items require that someone is present at the delivery address to receive and sign for the parcel unless written consent has been provided at the time of placing the order for the parcel to be left at a specific location.
*Next working day is Monday to Friday
Return of Purchased Goods
You have the right to return the product within 14 days without giving any reason. The cancellation period will expire after 14 days from the day on which you acquire, or a third party other than the carrier and indicated by you acquires, physical possession of the purchased item.
We ask customers exercising this right to return the goods unused, in the original packaging with all user information. The Distance selling regulations state that you are allowed to examine the products as you would in a shop, for example you can take a juicer of out a box and examine it, and you could switch on a juicer to listen to it, however we ask that you do not insert or pass raw food through it and make juice in it. Please do not refuse to accept the goods from the courier, accept the goods from the courier and the correct address to return the goods will be provided to you.
If the item is returned in a resalable condition, a full refund will be issued following inspection.
​