The Lurch Spirali Spiralizer is perfect for vegans, vegetarians, chefs or anyone looking for fun new ways to prepare fruit and vegetables.
The popular horizontal spiral slicer is very easy to use, just place your fruit or vegetable on the spikes, wind the handle while pushing sideways and instantly get beautiful spaghetti, spirals or ribbons. It can make spiral shapes and spaghetti from all firm fleshed fruit and vegetables. It's easy to clean and the suction feet prevent the spiralizer from slipping when winding the handle. The inventive design allows for fast, easy assembly and compact storage when not in use.
With this slick Attila Hildmann special edition, Lurch have also added a 1.5mm noodle blade for fine cut 'raw spaghetti' shapes and the reduced diameter of the locating peg on the blade means less waste is cut from the centre of all your ingredients. It comes with two other blades for 3mm noodles and spiral slices. Also in the box is a recipe leaflet with 6 of Atillas recipes.
Which fruit or vegetables are suitable?
Almost all of them! It is important that their consistency is not too soft or too loose so the spirals fall apart. Potatoes, carrot, cucumbers, courgettes, cabbage, onions, celery, horse radish, beetroot, peppers, aubergines, apples or pears are just as suitable as is a piece of hard cheese.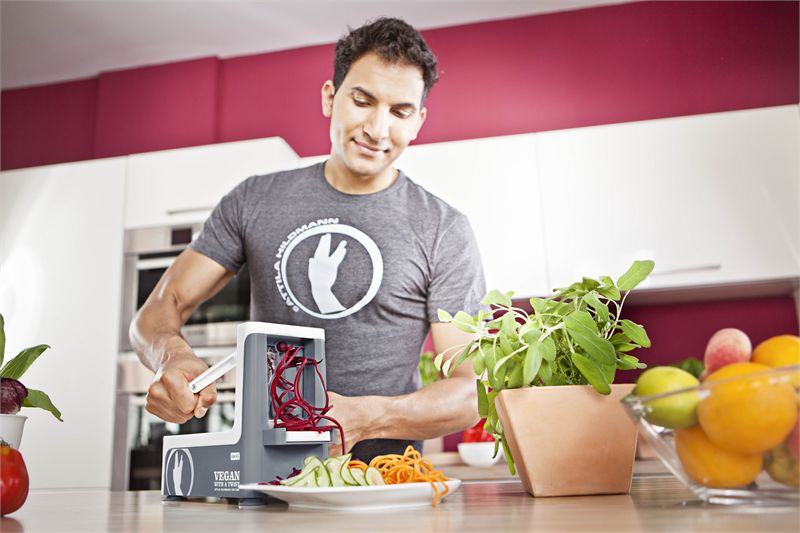 Key Features
Very easy to use, dismantle and clean
Safe, compact storage
3 interchangeable modular stainless steel blades
Integrated blade storage compartments
Non-slip suction feet for stability when winding the handle
Easy storage
Trouble-free operating and cleaning
Dishwasher safe
Recommended in many raw food cook books
Made in Germany
Product Video
Technical Specification
Dimensions (L x W x H): 30cm x 15cm x 22cm
Warranty: 12 months
Weight: 1 kg