Ceramic Chef's Knife 15cm Blade
Product Description
This beautifully crafted ceramic knife makes the cutting of fruit, vegetables and boneless meats easy. This large ceramic Chef's knife (15cm) is available with a black or white ceramic blade.
The blade on this ceramic Knife is made from Zirconium Oxide, which means no oxidation occurs therefore maintaining maximum nutrients and living enzymes in your food. Ceramic blades stay 10 times sharper than regular steal blades and are completely rust proof. With just a simple rinse of water all food odours and tastes such as Garlic are removed from the blades, making them extremely hygienic. The handle is ergonomically designed for easy use in repetitive food preparation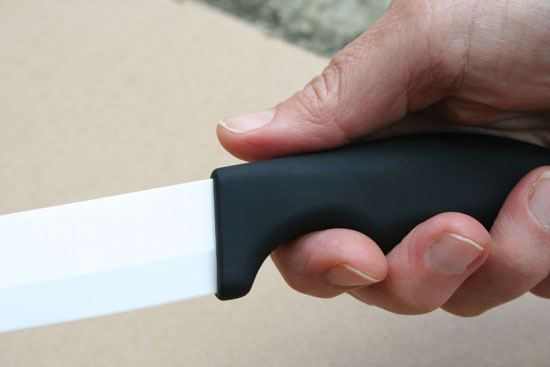 Key features
Made from Zirconium Oxide
Stays sharper 10 times longer than steel blades
Rust proof
Light weight
Product Video
Specification
Colour Options: Black or White
Dimensions: 15 cm
Materials: Zirconium Oxide Blade, Polylactic Acid (PLA) bio-degradable handle.
Care of your Ceramic Knives
Avoid dropping on hard surfaces or floors as blade may chip.
Do not use on frozen or hard foods.
Use wooden or plastic chopping boards, not marble, ceramic or metal surfaces.
For sharpening, take your knife to qualified knife sharpener who has a powered diamond sharpening wheel.
---
Customers Who Viewed This Product Also Viewed
Find Similar Products by Category
---