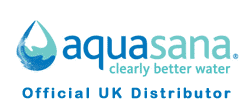 The Rhino whole house water filter is the ultimate home appliance. Its 4 stage filtration process supplies better than bottled water quality throughout the entire household for only cents a day! This whole house water filter is the most valuable and beneficial home appliance you can own. The EQ-300 whole house water filter supplies healthy, filtered water to every faucet and water source in the house. It works as a point-of-entry system to reduce chlorine and chlorine-resistant parasites as soon as water enters a home's plumbing system. Aquasana Rhino is the right product for your family's water needs! Drink, shower, bathe, LIVE in pure, healthy water!
The Rhino whole house water filter uses a patented four-stage process guaranteed to reduce a maximum amount of water contaminants!
Stage 1 - Filters out any sediment that may be in the water supply. When that sediment is removed, it cannot clog the main filter, thus preventing reduction in water flow and/or filter life.
Stage 2 - A process called "water atomization" fuses granules of zinc and copper together, creating a natural element media. This combination initiates an active filtration method, possessing a characteristic known as redox potential, alters the molecular structure of chlorine and turns it into harmless chloride.
Stage 3 - Contains large granules of bituminous- activated carbon for improved filtration, enhanced taste and clarity. This medium is recognized by the EPA as the "Best available technology" for water filtration.
Stage 4 - Contains a small granule of coconut shell-based activated carbon for an expanded surface area, No backflushing.

Aquasana Rhino Highlights
This deluxe, high capacity system has a 1,125,000 litre certified capacity, the best value of any Whole House Water Filtration System in America!
Comes complete with main filter unit, pre-filter, installation kit, shut-off valve and required hardware.
Requires only 46" of vertical clearance and has a diameter of 9" at the base.
Typical installation is 1-2 hours by a licensed plumber
The main filter unit is easily replaced (no plumber needed) every 3 years for only 470Euro.
Clean, healthy water flowing from every outlet in your home.
You'll notice softer skin and hair in just a few days by bathing in chlorine/chemical free water.
Improves indoor air quality (by reducing chloroform gas produced by evaporation of chlorine in the water).
Virtually no maintenance.
Lengthens life of plumbing fixtures and appliances.
30 litres per minute, on demand flow rate, means no pressure drop
Aquasana EQ 300 Rhino Product Overview and Installation Guide
Technical Specification
Dimensions (h x w x d) 46x28x8.75 inches
Weight 26kg
Capacity 1,125,000 litres
Flow Rate 30 litres/minute
Warranty 2 years
Additional Product Information
WE CANNOT SUPPLY AQUASANA PRODUCTS TO CYPRUS, GREECE, KOSOVO, NORWAY OR POLAND. IF YOU WISH TO ORDER FROM ONE OF THESE COUNTRIES, THEN PLEASE VISIT WWW.AQUASANA.COM.